In today's world, the digital channel is the front door for members. Members expect to complete many of the functions that they can do in-branch. They expect to be alerted based on important account changes and potential fraud, and rewarded with instant approvals based on their success. They are also expecting a user experience that is intuitive and reflects your credit union's brand.
With Emerge, your credit union can provide a complete digital banking experience where digital banking users can enroll 24x7, create new accounts, apply for loans, pay bills, transfer funds, send money, make deposits, and control cards. Stay in touch at all times with real-time alerts and deploy relevant, targeted marketing campaigns to personalize product offers, resulting in greater member share of wallet. Customize your user interface to align with your brand and the unique needs of your membership. Interface with 150+ third-party providers to create a unique digital experience for your members.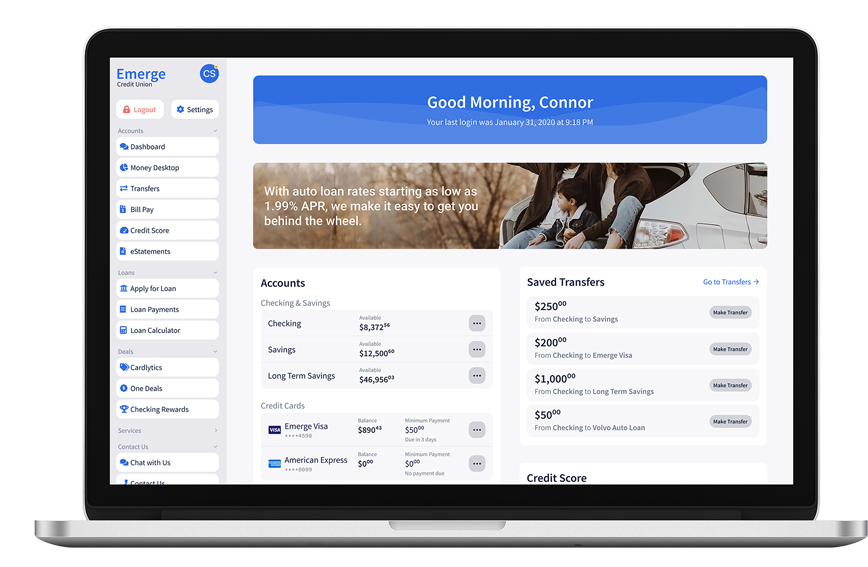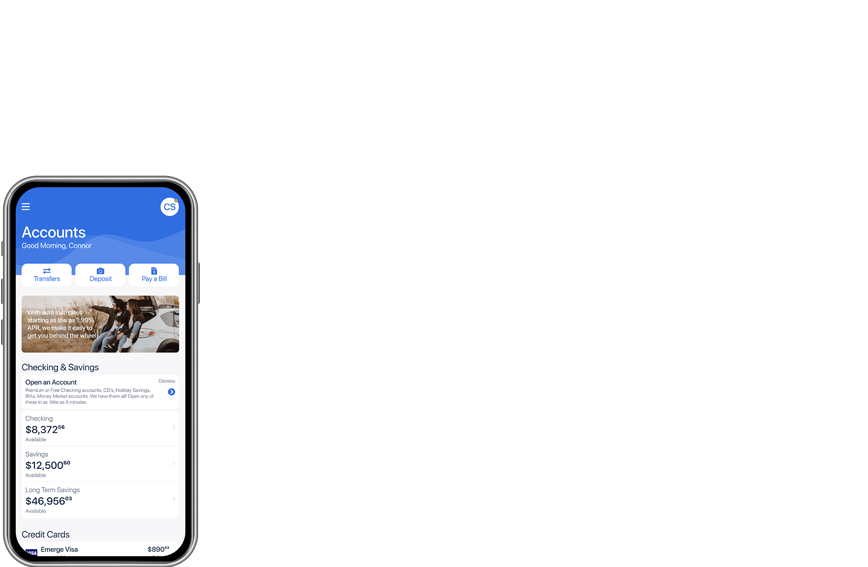 Almost everything can be done in either environment with a consistent user experience.
Our mobile apps are expertly coded to produce the best possible member experience with mobile API integrations whenever possible.
CUSTOMIZABLE USER INTERFACE
Depart from the cookie-cutter approach and tailor your credit union's interface for the best member experience.
MOBILE WELCOME PAGE WITH DEEP LINKS
Deliver general and targeted marketing messages to members on your Mobile Banking login page. Touching a promotion takes the member directly to the relevant page within the app.
Emerge supports interfaces with several PFM providers, offering resources for effective decision-making.
Send on-demand, real-time, 24/7 targeted messages to individual members, groups, or the the entire digital banking membership. Send alerts and notifications via email, text, and mobile push notifications.
LAYERED SECURITY FRAMEWORK
Our approach protects your members through multiple identification steps that include biometrics, carrier intelligence, and one-time passcodes.
Our Client Innovation Group and Client Advisory Council bring ideas to the table and help steer future development of the Emerge platform.
Connect with us today to arrange a product demonstration.